We got a little scare today when someone told me that a fire in Fontana had some people considering mandatory evacuations in Rancho Cucamonga.  Fortunately, the fires in Fontana have been contained.  We're all safe, but we can still see the plume from the Grass Valley and Slide fires near Arrowhead.  Lara took some pictures today:
Here you can see the plume rising.
This shows the wind bending the trees.  These Santa Ana winds are fierce.  They have gusts up to 80 mph.  Stuff from our yard has been blown into neighbor's yards – Three trees were blown over in our neighborhood – I even saw freeway signs that were bent from the force of the winds.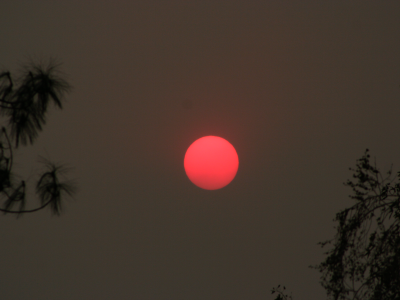 The smoke was so thick this afternoon that the sun turned red.  You can see ash falling like snow in some places.